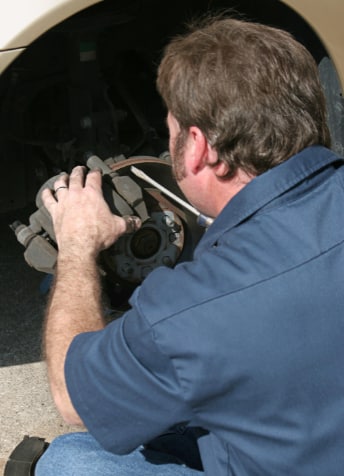 For routine maintenance, it's important to check your car or truck's braking system at least once a year. A thorough inspection includes:
Brake lining wear
Brake fluid level
Rotor thickness
Condition of hoses and brake lines
Brake and dash warning lights
A test drive to detect other potential brake system problems
Often a simple inspection can save you big money further down the road.
Visit our shop today and get your car brakes professionaly serviced
Boyd's Tire & Auto proudly serves the community of Kelowna, BC, and will happily assist you with all of your auto service, auto repair, brake, tire, wheel, and alignment needs! We are a team of highly trained auto service and repair experts who are committed to providing the best customer service experience in Kelowna, BC! Boyd's Tire & Auto would love the opportunity to make you a customer for life. Call us today at (250) 860-1157 to schedule an appointment for service and experience Boyd's difference! We are located at 889 Vaughan Ave. Suite 105, Kelowna, BC V1Y 7E4. Check out our reviews to see what our happy customers have to say about us! We look forward to assisting you soon.